15 Jul

Insight Rocket Delivers 2020 Election Analytics ROI of 350%

With just eight months until the 2020 election, political media buyer Smart Media Group (SMG) knew that improving their analytics distribution could not wait a moment longer. Industry-wide, political spending was double previous records, and client demands for data were accelerating. While Tableau was already bringing SMG efficiencies, the final leg of delivering data stories to their clients remained labor-intensive. Within a month, SMG implemented Insight Rocket's analytics publishing platform, boosting distribution, efficiency, timeliness, and analytics engagement. In the coming five months, SMG automated delivery of over 1,300 data stories to its clients, increasing client satisfaction while saving hundreds of analyst hours. In addition to improving quality and timeliness, Insight Rocket saved enough analyst hours to pay for itself 3.5 times over.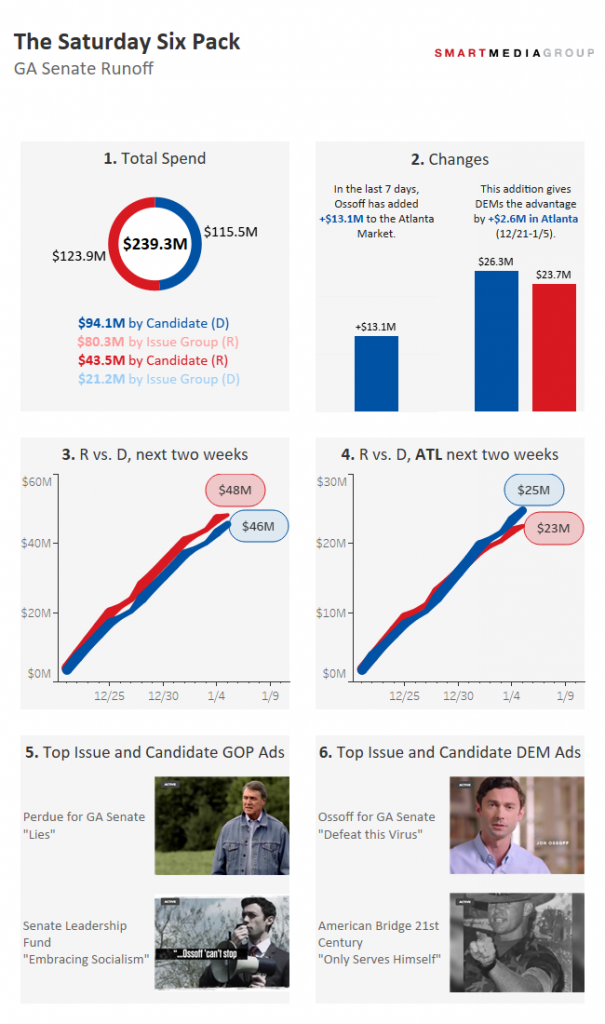 The competition between political media buyers is fierce, and that battle is increasingly won or lost over data analytics. SMG excels at promptly discovering spending on behalf of competing candidates, and maximizing client budgets by optimizing timing, targeting and medium. This was never more so the case than in the fierce Georgia Senate runoff between Jon Ossoff and David Perdue.
By the time of the GA runoff, SMG's analysts were experienced Insight Rocket storytellers. Blending data journalism and digital marketing, SMG became an indispensable daily news source for its clients, winning repeat business. Simultaneously, SMG established themselves as a premiere data supplier, thereby attracting future clients.
While SMG's new Insight Rocket public and client portals brought complements, its timely delivery of graphical data stories as mobile-friendly emails had the biggest impact. Insight Rocket's usage analytics confirmed that clients promptly opened them, providing consultants and decision makers with the insights they needed on the go. Also important to Sean Philbin, SMG's VP of Business Development, "The stories look great on mobile!" To understand how Insight Rocket built on Tableau's existing strengths, let's take a look at how the two work together for SMG.
For nearly a decade, SMG has utilized the power of Tableau's analysis and visualization tools to provide media buying insights. While Tableau visualizations became the core element of their client data stories, equally important to their clients were the narrative and visual context provided by SMG's data analysts. Composing these stories by hand achieved this goal, but at the cost of timeliness and scalability.
With Insight Rocket, SMG's storytellers produced insights with any combination of Tableau visualizations, ad imagery and other content. Those interactive stories are available via mobile emails, PDFs and PowerPoints.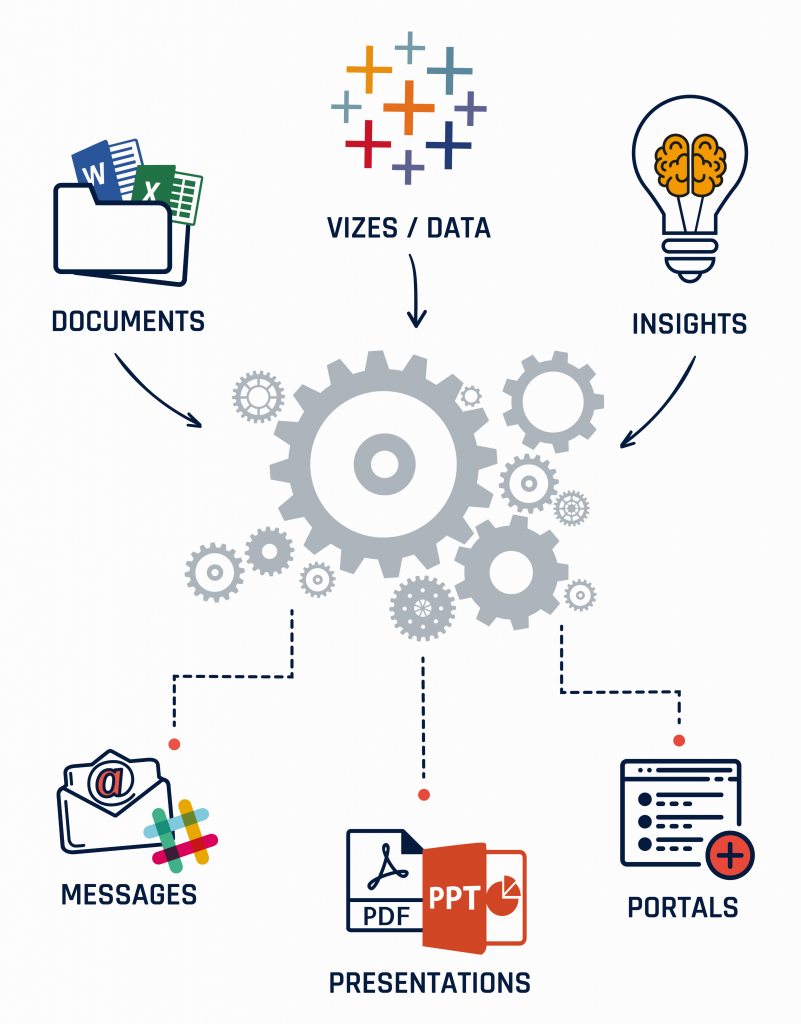 As much as SMG improved client analytics in 2020, its plans are even bolder for 2022. "Next election cycle, it's going to be enormously valuable having Insight Rocket automatically generate narratives and choose the right Tableau vizzes based on data thresholds. The vast majority of the storytelling will be automated, with analysts able to add final touches before they are published." according to Dan Kagan, SMG's Director of Analytics. In political media buying, speed is everything. Insight Rocket was not only able to save SMG time by auto-delivering analytics emails, but these timely updates also provided SMG's clients a strategic advantage, as was most apparent in the 2020 Oklahoma Senate race. In that race, the timeliness and frequency of publishing facilitated by Insight Rocket allowed the SMG team to figure out that its client's competitor was buying media in a way that temporarily eluded FEC reporting. By detecting this early, their client had time to respond before the race was over.
To learn more about the power of combining Tableau and Insight Rocket, request a demo now.